A violoncello that searches the legato lines of the singing
and a mezzosoprano who pursues the deep and rich sound
as well as the flexibel wide range of the cello.
Two essentially different instruments and still so alike in sound.
Together in pure plainness they form an expressive and dynamic unit.
Duo7 consists of Annika Hudak, mezzosoprano
and Johanna Sjunnesson, cello.
The repertoir contains for example music especially created
for Duo7 by the Swedish Composer Thomas Jennefelt.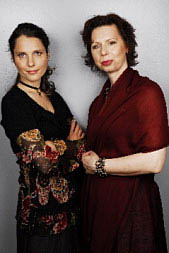 Duo7
See also http://www.cellist.nu
Duo7 cooperates with the Pianist Terés Löf.

Duo7 and Terés Löf.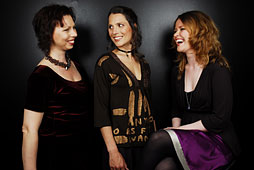 Duo7 and Terés Löf now offers this program.
Thomas Jennefelt "Stunden, äppelträdet och livet"
Öisten Sommerfeldt "Om kjerlighed"
Henryk Gòrecki "Sonat"
Arvo Pärt "Spiegel im spiegel"
Frank Bridge "Three songs"